Traffic > Barriers > WonderWall™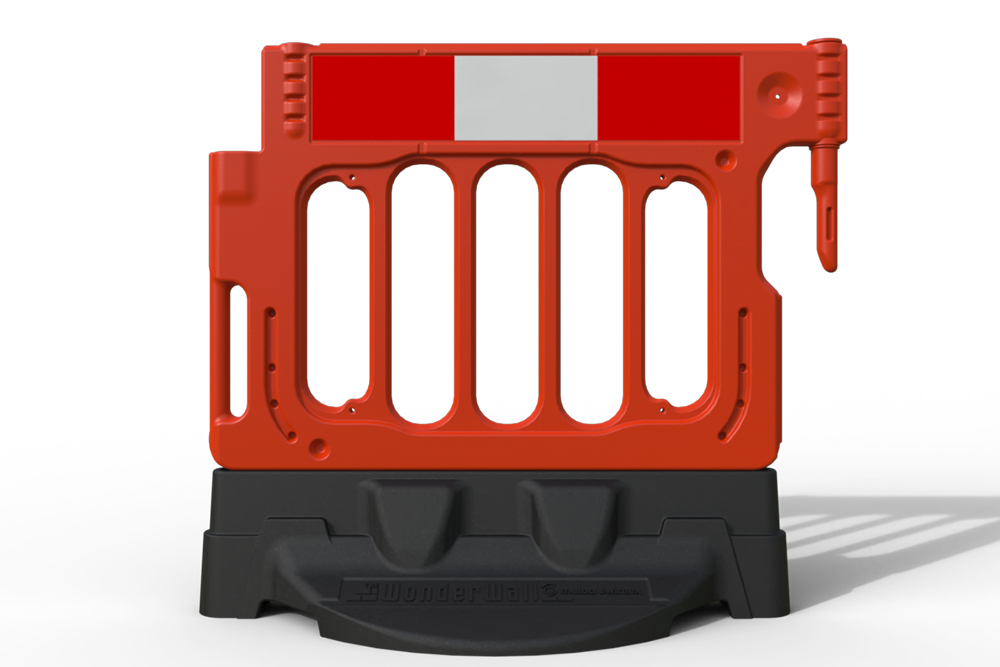 The top Barrier is Blow Moulded and therefore hollow, this makes it perfect to connect other barriers to via an area on the left side that has been left open. The WonderWall™ can connect to itself to create a continuous run using this feature.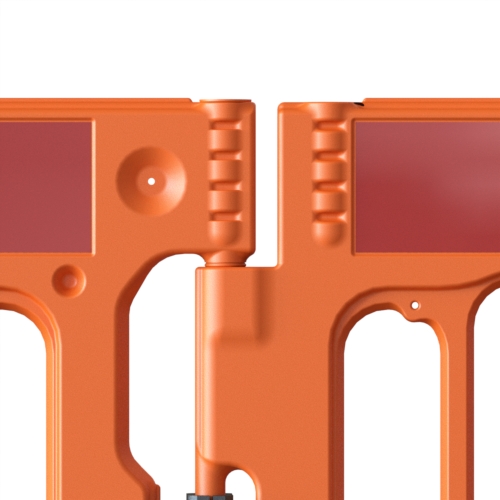 A 250mm high area has been left towards the top of the Barrier so that Red and White reflective can be attached. This increases safety around street works.
The reflective is recessed into the barrier, this is to deter against damage when items are stacked on top of the Barrier, this however, allows water to build up and can become stagnant. The WonderWall™ contains small channels around the recesses to allow water to escape.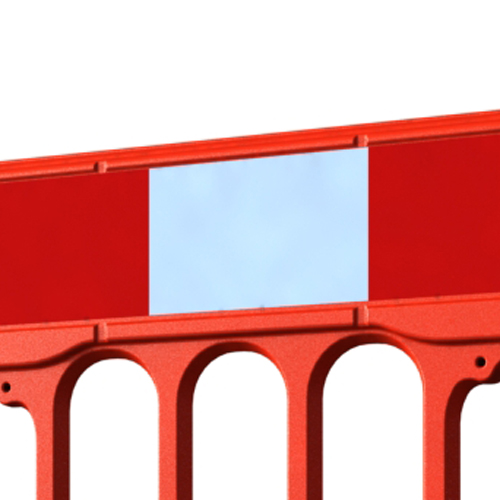 The facility (like all Melba Swintex barriers) for a 600mm x 450mm sign face has been added. This is ideal for an Apology Board.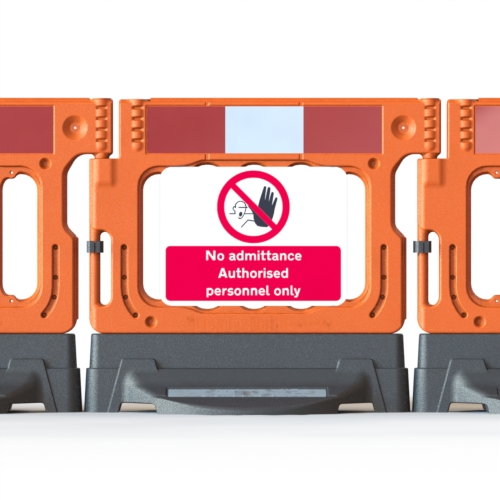 As first originally seen on the Gate & Master Barriers, the all-time classic feature to incorporate a Lamp bracket has been included. This makes it possible to attach a lamp or flashing beacon of some kind to increase awareness at night time.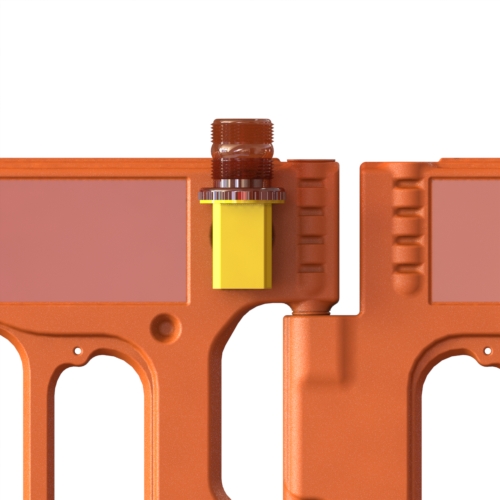 The WonderWall™ has the capability to support a top deck, these can be metal or plastic fences that increase the height of the system. The ribbed profile provides a stable support for the fence.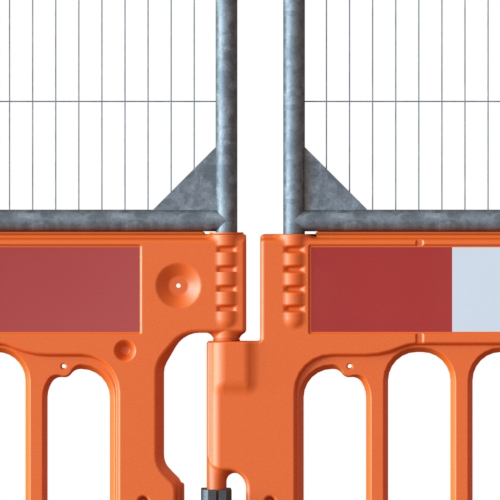 The WonderWall™ has a separately moulded, but securely attached hook on its right so that it can securely connect to the next barrier. The strengthened hook design can be seen on the Melba Swintex Boss Barrier, which has been praised with critical acclaim.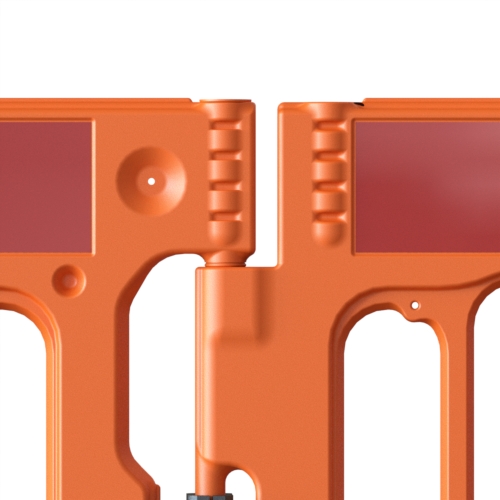 When quick access is needed on site works, the WonderGate™ & WonderDoor™ can provide this. A connection has been included on the left side of the Barrier, when using the Melba Swintex S-Clip, a doorway can be created with an existing Melba Swintex Barrier which can pivot on the S-Clip connection. The hook on the right hand side is thick enough to slot into the S-Clip, allowing a secure run of Barriers to be made.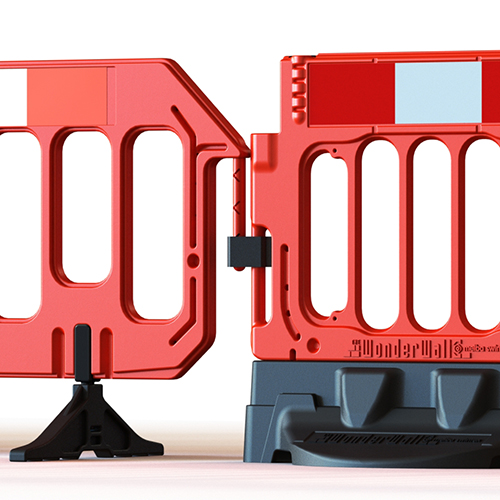 The Barrier is 50mm in thickness, and has features that protrude outwards to 60mm. Stacking is important for transport, and therefore these lugs allow the top Barrier to locate with itself and stack at 50mm.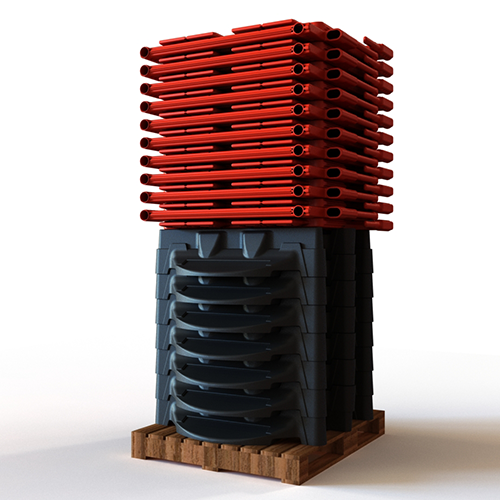 The top Barrier can be embossed with a corporate logo, and can also be coloured to suit.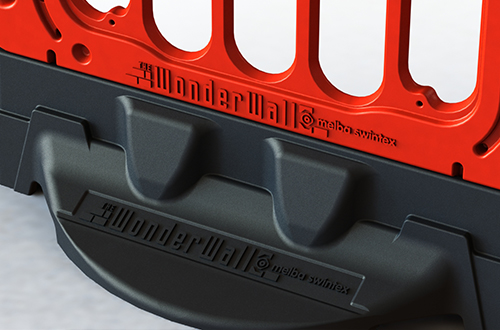 The Bases are 250mm in height, and stack with one another at every 150mm. This reduces the overall height when placed onto a pallet, allowing for more product to be transported.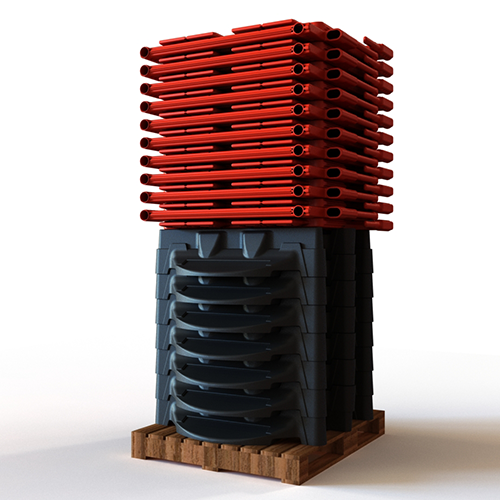 The Base can be embossed with a corporate logo on both sides. It also does not matter which way the Base connects to the Barrier due to its symmetry.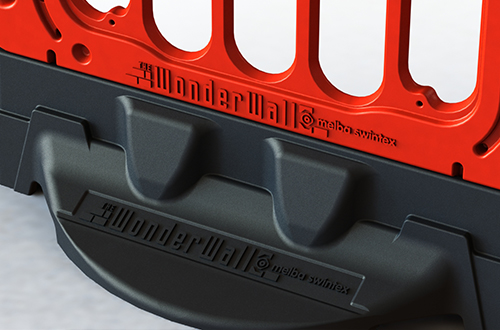 The Base weighs just under 19kg and is therefore below the threshold for a one-man lift. When more than one Base is required to be moved, then it is possible to use the two holes on the bottom Base for fork-lift entry.
The WonderWall™ is a heavy duty, enhanced Barrier system. The robust Barrier gives stability in high winds without the need for extra ballast. It creates a safer working environment when Barrier is deployed near the road side, or excavations on site. Can be moved with ease by one person, and can be moved via Fork-lift truck when the Bases are stacked.
Features
Pedestrian & Plant WonderDoor™ can be incorporated.
The WonderDoor™ system can be created using the Melba Swintex S-Clip, as well as connection to existing Barrier systems.
Embossing with corporate branding on both the Base and Top.
A separately moulded peg that is securely fixed allows a quick & easy connection to the next Barrier.
Tops and Bases can be coloured coded for corporate identity .
Holes in base for Fork lift entry.
Location holes for a 600 x 450 Courtesy Sign.
A hole to take a flashing Lamp.
Extremely tough & durable for life longevity.
Base is manufactured from 100% recycled material.
Bases can stack with one another.
Reflective area for high visibility.
Compatible with existing systems.
Facility to take a double decked system.
21 pieces each to a pallet.
Standards
Conforms to requirements of BSEN8442
Reflectivity requirements of BSEN12899-1
Chapter 8 - The Traffic Signs Manual
Safety at Street Works & Road Works
– A Code of Practice.
Traffic Signs Regulations & General Directions
Spec Sheet:
Download Spec Sheet

Wind Resistance PDF

Wind Resistance - Boxed PDF

Installation Instructions PDF

Standards PDF

Wind Resistance
All temporary traffic barriers must be able to withstand three different classes of wind speeds with the use of a ballast. The standard BS 8442:2015 states the three classes as the following:
Class A: 26.3 m/s (58mph)
Class B: 17.6 m/s (39mph)
Class C: 8.7m/s (19mph)
The WonderWall™ Barrier system was tested under strict conditions at the Full Scale Wind Tunnel at Mira to determine at which wind speeds the barrier can withstand. Below are the results and guides as to the recommended ballast weight for each Wind Class:
Class C
Withstood up to 33.2mph.
Recommended Ballast Weight: 0kg

Class B
Withstood up to 47.8mph.
Recommended Ballast Weight: 15kg

Class A
Withstood up to 65.6mph.
Recommended Ballast Weight: 65kg

Boxed
Withstood up to 63.2mph.
Recommended Ballast Weight: 40kg